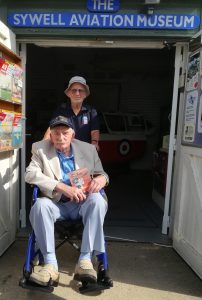 On 22nd August, Peter Potter paid a 'flying' visit to Sywell Aviation Museum. Peter, a second World War veteran now aged 93, arrived at Sywell courtesy of Ian Brierley in his Cessna 182 and accompanied by his friends Ron Tickner from Boxted Air Museum and Ivan Frost.
Peter served with the Royal Air Force during World War 11 as a rear gunner on Lancasters with 626 Squadron at RAF Wickenby in Lincolnshire. He was involved in 31 operations into Germany and occupied Europe, almost exclusively on Lancaster LM113 . Despite his aircraft coming under attack from Junkers 88's on a number of operations and suffering flak damage, Peter beat the odds and was one of the lucky members of Bomber Command air crew who survived the war.
After enjoying a tour of our Museum and recounting his wartime exploits with our members, Peter then enjoyed a late afternoon flight back to Earls Colne .
Sywell Aviation Museum is proud to have hosted this visit, now one of many by veterans of World War 11.sdr